Preferred Jewelers International™ is a nationwide network of premier independently owned and operated jewelry stores.
This association guarantees that your Preferred Jeweler will give you...
"
E
xperiences that last a
L
ifetime™"
The Preferred Nationwide Lifetime Warranty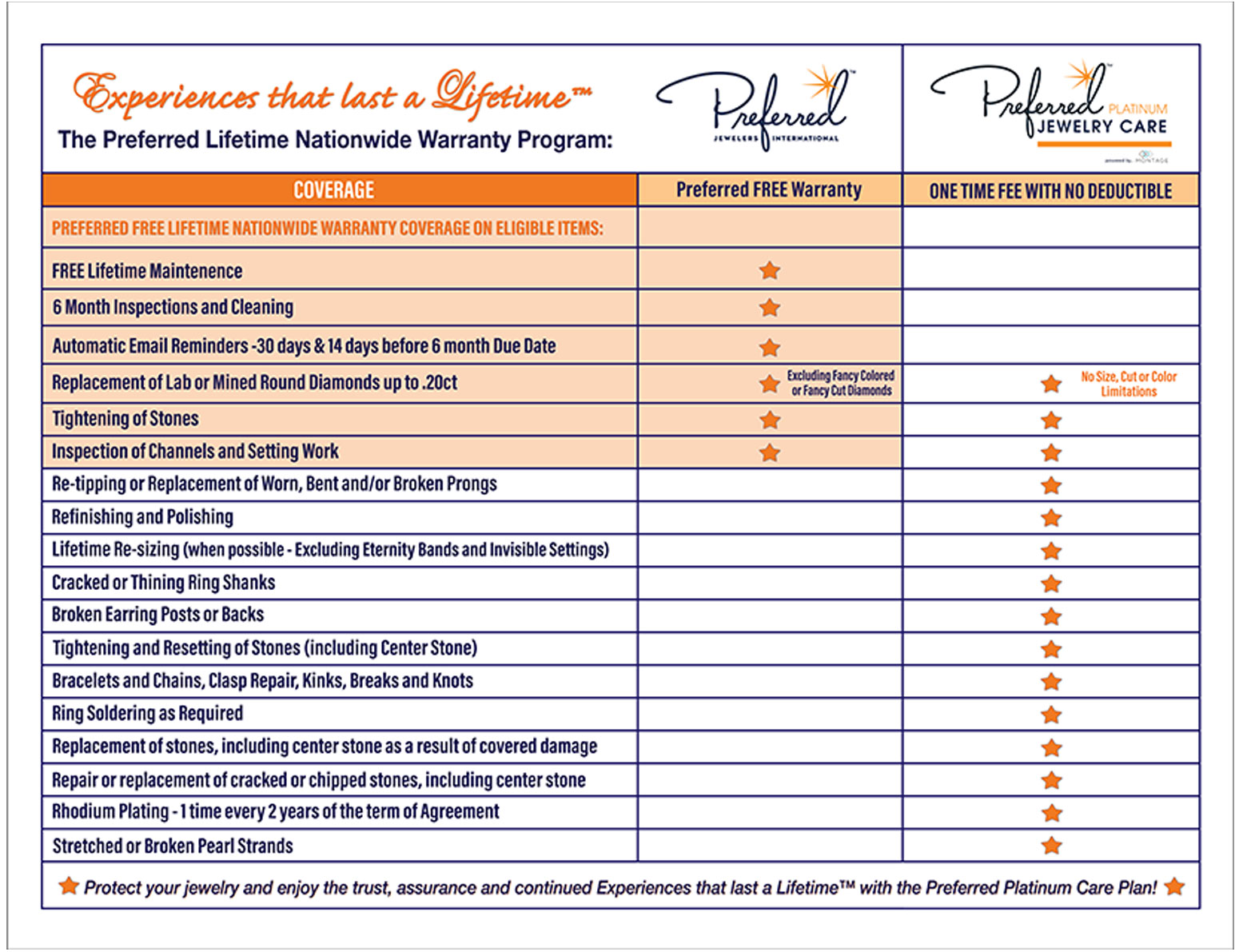 What does the free Nationwide Warranty cover?
Any Preferred Jeweler will, at no charge:
RE-TIPPING OF PRONGS

*

, INSPECTION OF CHANNELS AND SETTING WORK:

Thorough inspection of all prongs, channel and setting work to assure none of the stones move in any way. Re-tipping is the process of adding small amounts of metal to the tip of each prong. Stones do not have to be removed. *In the instances where Rhodium is required, a charge MAY be incurred. This is at the sole discretion of the Preferred Jeweler.

RE-SIZING:

When possible, a Preferred Jeweler will provide lifetime resizing of your ring. Some rings are not sizable, especially if there is a large size difference, a specialty design or there is micro pave. Changing the size of a ring with micro pave is never recommended. If you re-size this type of ring it will be unrepairable as the stones will loosen and the integrity of the ring will never be the same.

TIGHTENING OF STONES:

Preferred recommends and requires that you come in to your Preferred retailer to have your items inspected every 6 months so that we can check for any loose stones and perform the necessary repairs.

REFINISHING AND POLISHING

*

:

Any scratches and or scuffs will be polished. Some finishes can't be restored especially specialty designer finishes. Steam, ultrasonic cleaning and polishing machines are used to bring your jewelry to pristine condition. *In the instances where Rhodium is required, a charge MAY be incurred. This is at the sole discretion of the Preferred Jeweler.

LOOSE EARRING BACKS:

Your earring backs will be repaired if they are no longer secure.

PREFERRED JEWELERS

will replace a diamond up to .20ctw at no additional charge to consumer.

FREE LIFETIME MAINTENANCE:

*To keep your warranty valid you are required to visit your Preferred Jeweler every 6 months to have your items inspected and maintained. Your visit will be notated in the Preferred website database. Customer and retailer will be notified by email 30 days before and again 14 days before "due date"? inspection. Please ensure that we have a valid email address on file. Should there be a lapse in time and warranty has become invalid the retailer may charge the customer to bring the item back into warrantable condition and then update and reinstate the warranty.
NOTE:
Criteria for issuing a warranty may vary by retailer. Retailer has the option to apply for a RA Number and have the item sent in to the Preferred Facilitator "True Romance"? to implement service covered under the Preferred Nationwide Warranty.
*For assistance please contact the Preferred Office at 888-998-8874
Where can I have my jewelry serviced if I move?
Moving? Don't worry about sending your jewelry back to your Preferred Jeweler to be serviced or finding that same excellent service in your new city. Just click on the tab titled Nationwide Presence on our website to locate the nearest Preferred retailer in your new town. They will be happy to help you maintain the beauty and longevity of your jewelry.
What happens if I move to a new location with no Preferred Jeweler near me?
If you happen to move to a new location where there is no Preferred Jeweler near you and you need service, please contact the Preferred national headquarters. Our toll free number is 888-998-8874 and we will advise you on how to proceed.
What happens if I lose a diamond?
The Nationwide Warranty covers the replacement of any missing diamonds from the setting up to 0.20 ctw. If you lose a diamond, take your item into the nearest Preferred Jeweler with your warranty card. They will be able to track your jewelry in our system to see where it was originally purchased. The proper steps will be taken in order to assure that your jewelry is repaired.
What Happens if your item has withstood major duress, for example if it has been slammed in a door. Is it still eligible for free repairs under the warranty?
Any kind of personal accidental damage to your jewelry would not be covered under the Preferred Warranty ... the warranty states clearly what is covered and hence the requirement for the semi annual inspection to keep your piece in warrantable condition. If this should occur the retailer will charge you to get your jewelry back in warrantable condition and then reinstate the warranty. Insurance coverage is highly recommended.
Can't find your warranty card? Contact Preferred Jewelers International™ at 888-998-8874